Our Audience Development and Inclusion Programme aims to entertain, inform, engage and empower local communities through the medium of film and film related art-forms.
It delivers events and provides resources and practical support for communities who want to increase their knowledge and understanding of specialised film and the creative processes involved in the development and production of a range of film and digital media. The team works with a variety of local communities across Northern Ireland, in particular with those in the AOD catchment areas, and those in areas of social deprivation. We provide a range of specific projects that include workshops, events, activities and training opportunities.
Yer Men in Spain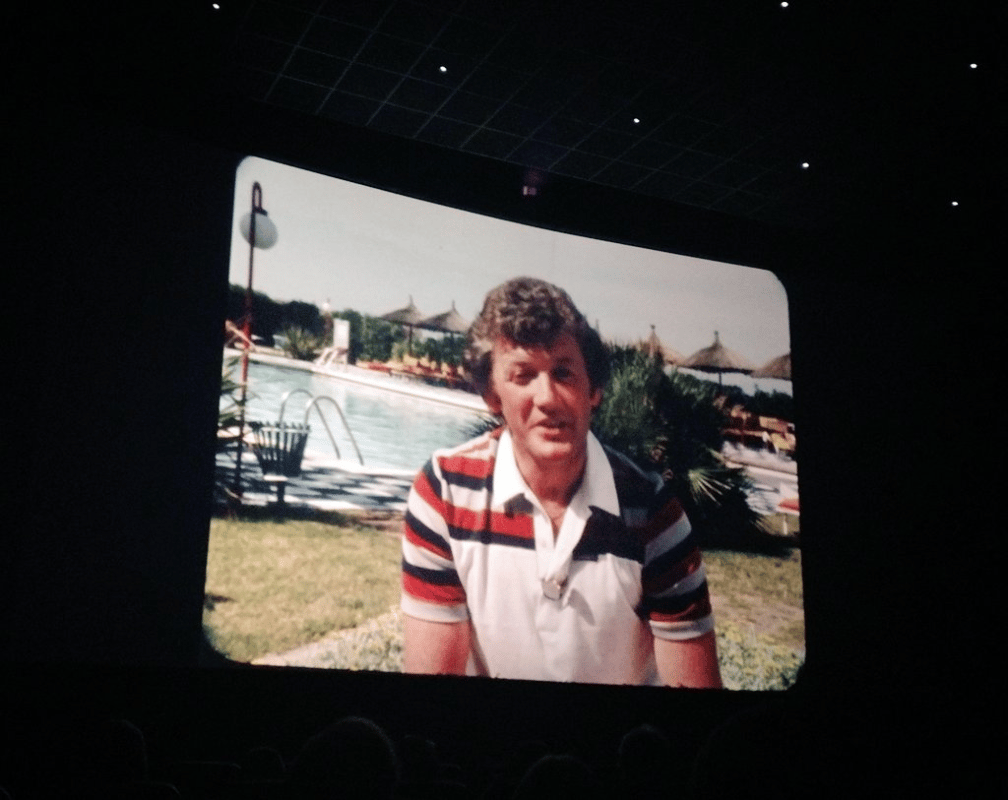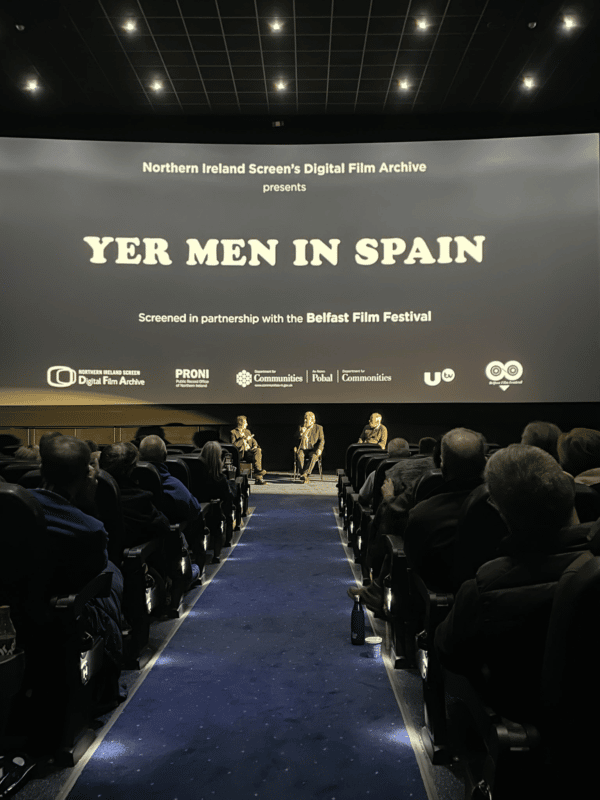 Footage of the Northern Ireland football squad sending shockwaves through the 1982 World Cup was on show in this documentary created by Northern Ireland Screen's Digital Film Archive.
Edited from over eight hours of UTV footage of the late Billy Bingham's heroic squad – featuring Gerry Armstrong, Pat Jennings, Martin O'Neill, Billy Hamilton and Norman Whiteside – on and off the pitch, Yer Men in Spain featured interviews and vox pops from fans in Spain and in pubs and venues across Northern Ireland.
A special event at Odeon Victoria Square included a Q&A with footballers Gerry Armstrong and Billy Hamilton – prominent members of the team that defeated tournament hosts Spain en route to the quarterfinals – and was hosted by director of the documentary, Northern Ireland Screen's Evan Marshall.
Vox Populi: The Voice of the People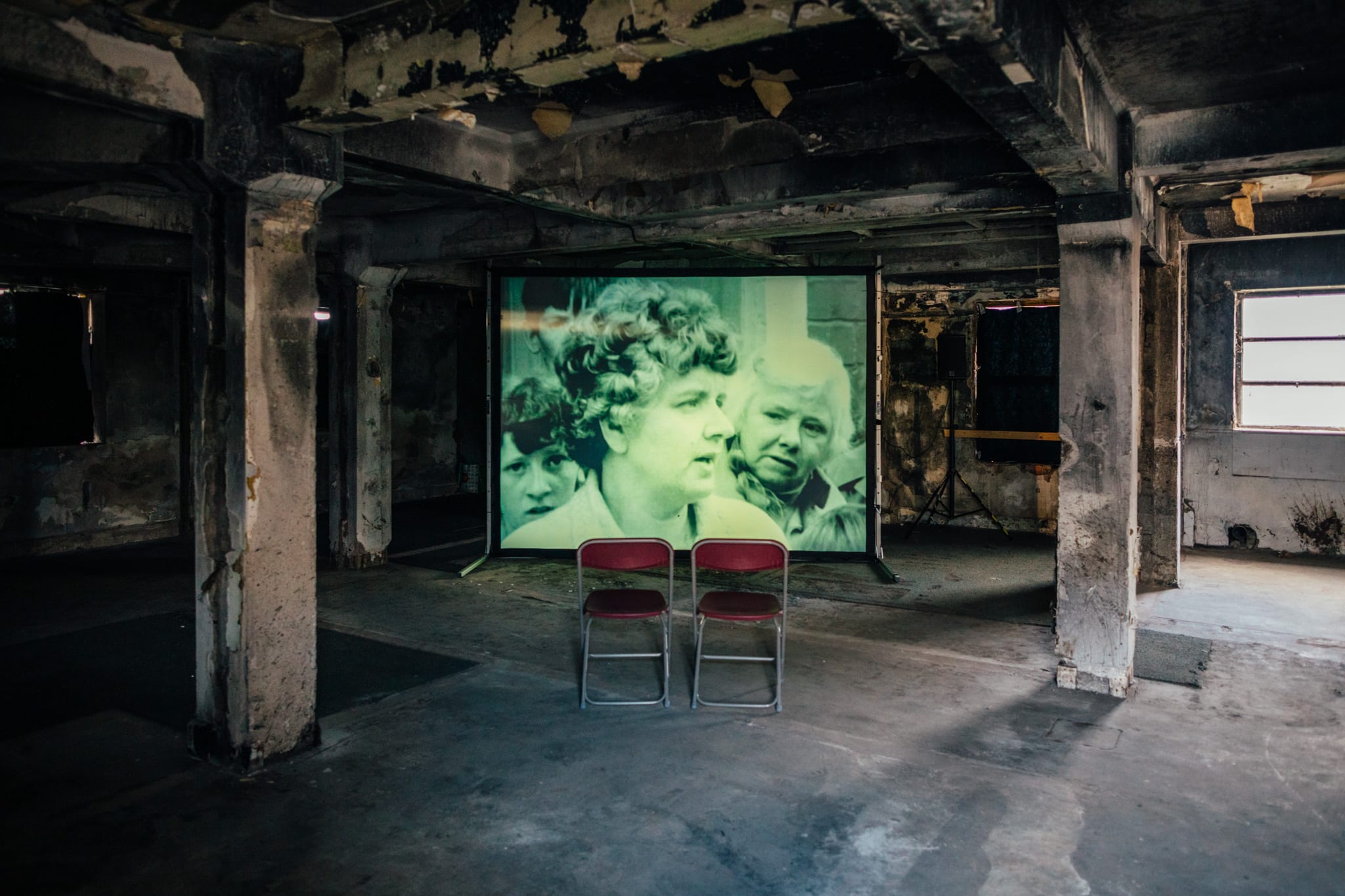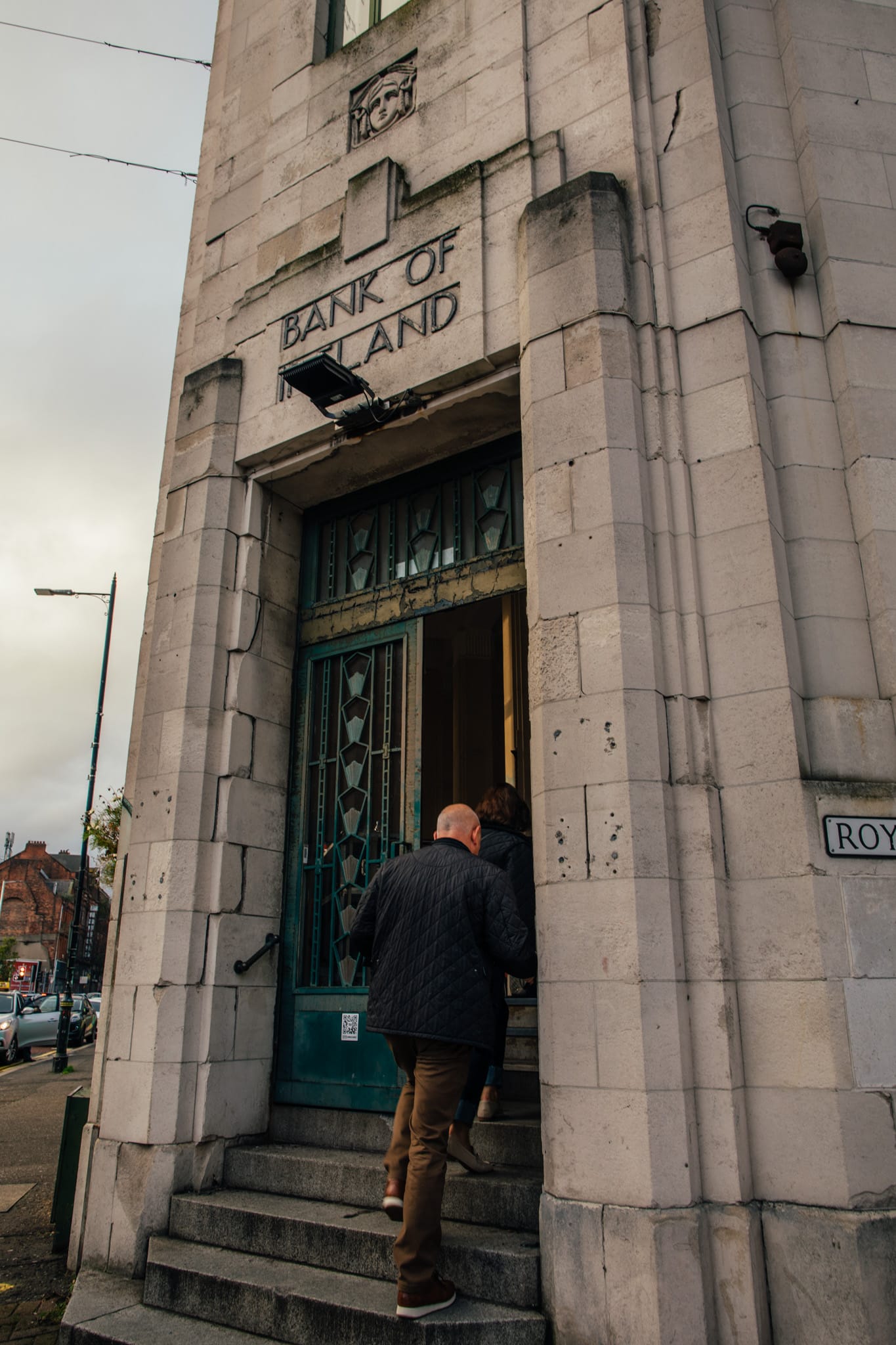 In the disused Bank of Ireland building on Royal Avenue, BFF22 presented this audiovisual installation of spoken testimonies from the people of Northern Ireland, filmed between 1959 and 1969.
Captured by reporters from Ulster Television, the footage covered a range of topics, from the universal everyday to distinctly Northern Irish political and societal issues of the time.
As visitors ascended the floors of this unique space, they heard and saw discussions on local football and Sunday opening for pubs, filmed close to the city centre. As times changed through the decade, so too did the subjects on the news agenda. Miniskirts appeared on the streets of Belfast and men's hair length was up for debate.
As the Global Sixties progressed there was a cultural shift, and ultimately the footage depicted the growing unrest reflected in people's experiences shared on camera.
Pulsos: Mexican short films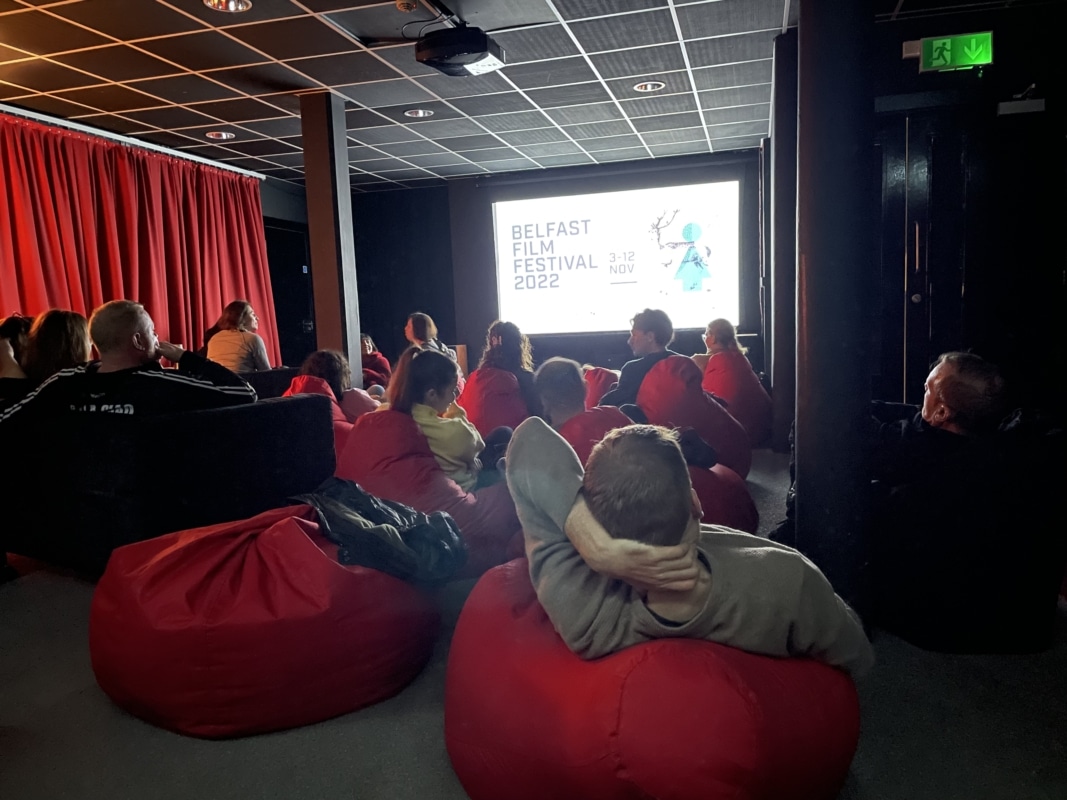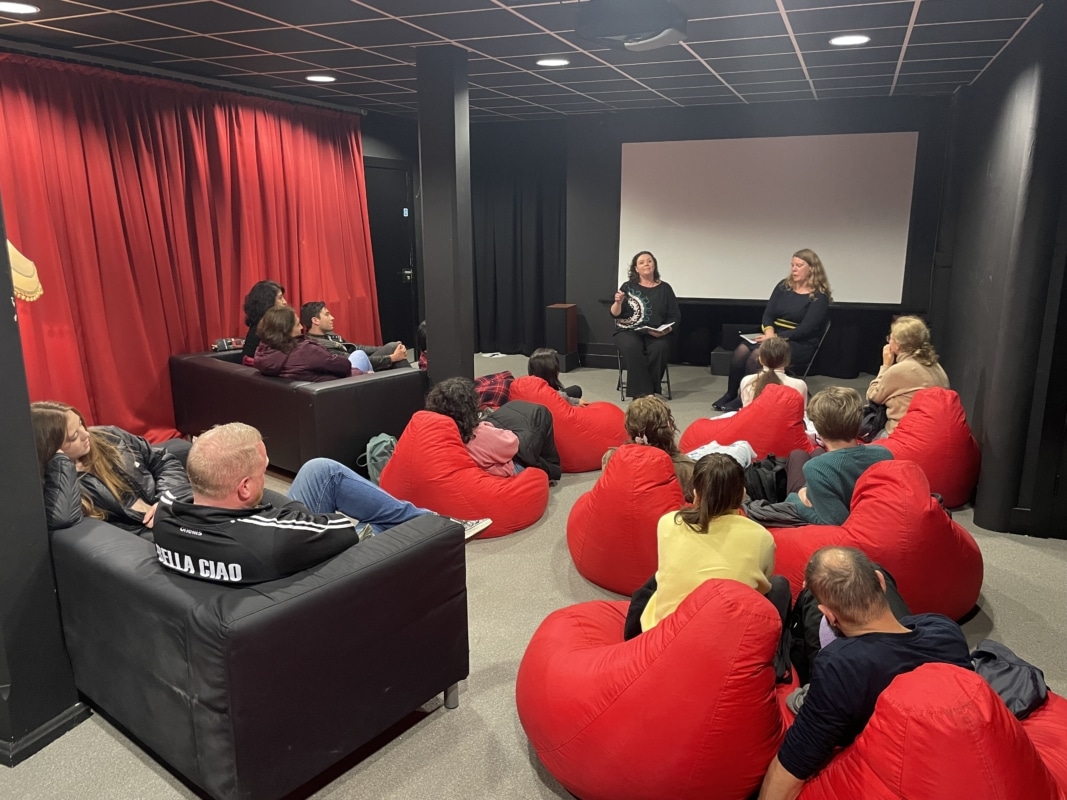 As part of BFF22, we hosted a Pay What You Can Mexican short film night at our very own Beanbag Cinema. The event was an informal collaboration with Ambulante, Mexico's farthest-reaching documentary festival, who were effectively touring their 2022 shorts programme, Pulsos, in a one-off capacity in the UK.
It had just finished traversing five Mexican states for this year's festival, visiting areas that have little access to film, whether through exhibition or production. Their filmmaking branch, Ambulante Más Allá (Ambulante Beyond), looks to rectify this by using documentary as a tool for social change and getting marginalised communities involved in film.
We had worked with Ambulante in an online capacity back in 2021, programming four short films on Eventive during Docs Ireland 3.
The five short films were preceded by specially recorded filmmaker intros, translated and subtitled by our FEDS trainee from the Independent Cinema Office. The programme covered a range of pertinent themes and issues in modern-day Mexico, including indigenous cultures, machismo, manual labour, heritage and displacement.
The event was sold out and well attended, with a good number of young people and Latin Americans living in Belfast present. This made for a particularly productive post-screening discussion led by Sarah Bowskill and Claire Whyte, two specialists in Mexican studies at Queen's University Belfast. The discussion provided a great balance between lived experience shared by Mexican people and those familiar with the diverse makeup of the country through academic research.
Bedrock Docs
We paired five local filmmakers with five community groups from the Belfast area, to make a 5-15 minute documentary.
The participants worked across every aspect of their project, from locations, sound, archive, filming and post-production, gaining skills and confidence from their filmmakers.
The films are:
Séan Murray – Is Éireannach Mé / I Am Irish 
This short documentary explores the lives of first and second generation immigrants who now call Ireland their home. What does it mean to be Irish? Do we consider ourselves a tolerant and welcoming society?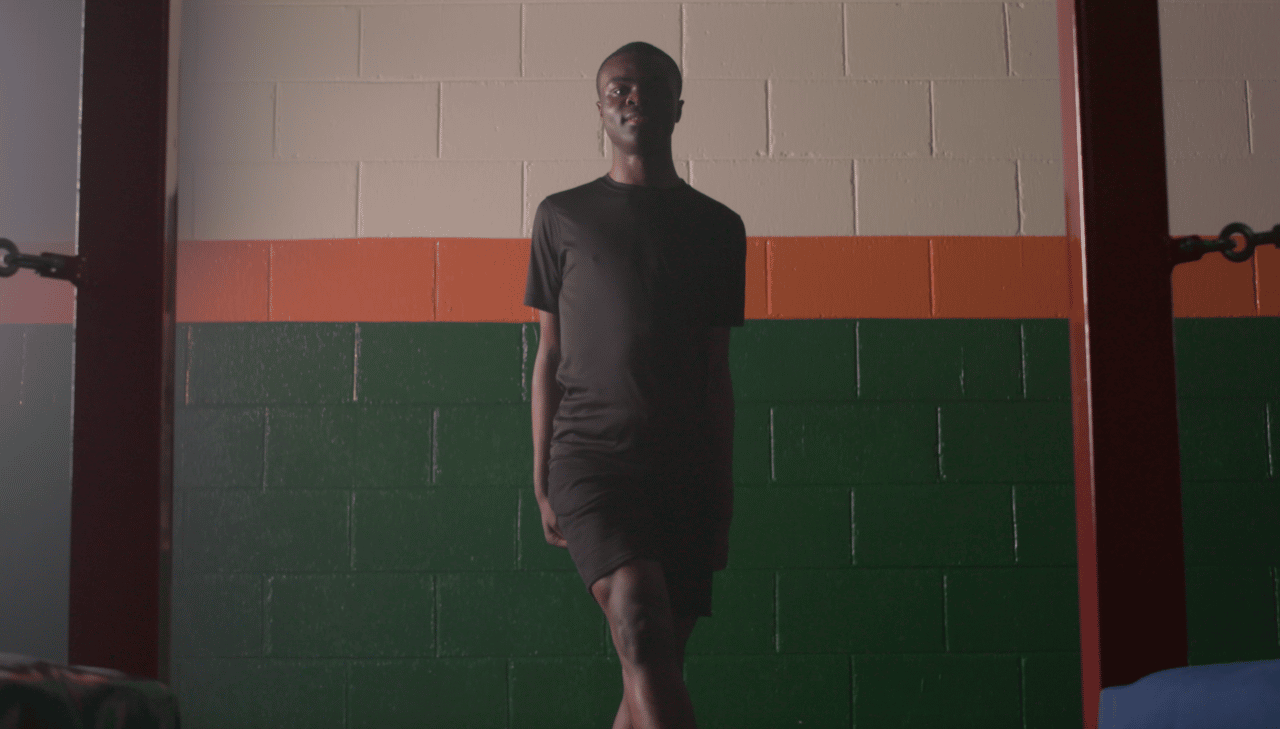 Emily MacFarland – Home / Baile / مسكن
How do you build a sustainable neighbourhood? What is needed to feel part of a community? Over six months, Belfast based Anaka Women's Collective and activists from PPR (Participation & Practice of Rights) collaborated with artist filmmaker Emily McFarland to trace memories of displacement, the meaning of home, present challenges aroundsocial housing and future aspirations for a new kind of neighbourhood on public land in West Belfast – forged through resilience and mutual aid.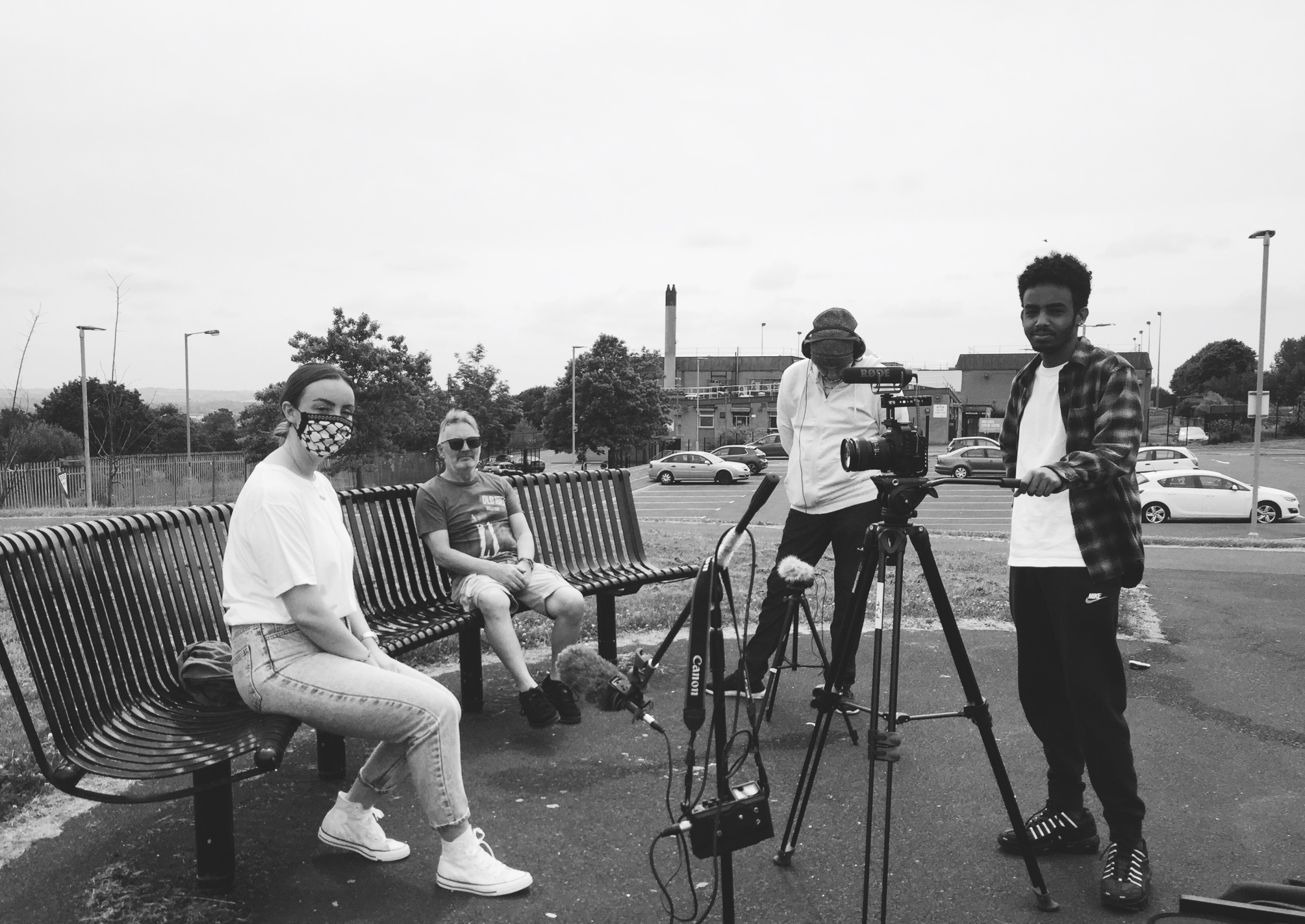 A look at Belfast through visiting eyes.
Belfast. A port city. Welcoming visitors for hundreds of years through the mouth of the river Farset. Is today any different? Travelled individuals share their thoughts on a historic city.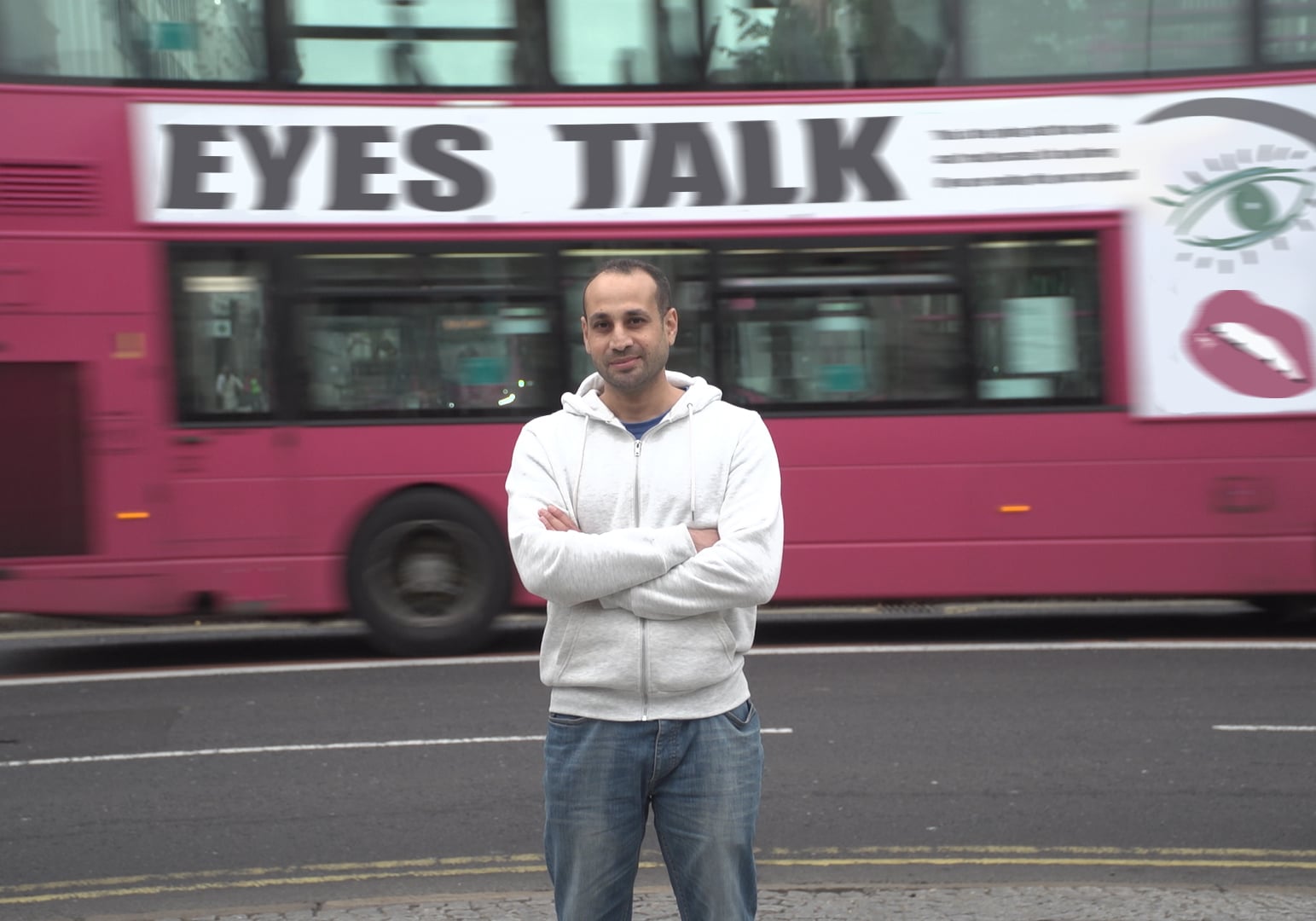 My bedroom. In Nature. On a skateboard. Ayah, Martha, and Georgia reflect on their journeys through care and share the safe places they've found or created for themselves.
 The three young women worked with director, Lisa Keogh, to define their own care narratives and open a window into their worlds.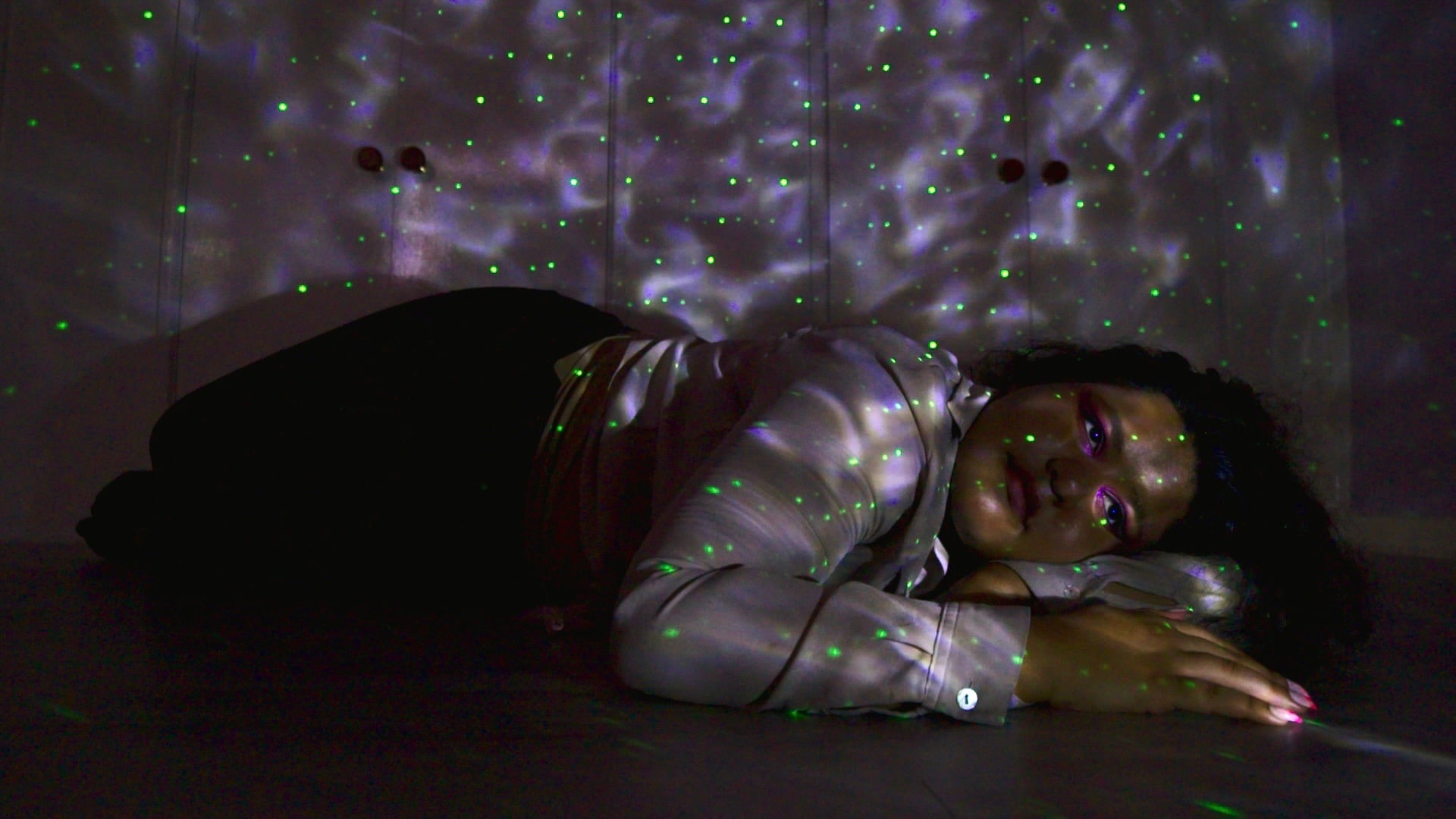 Gillian Callan – BILINGUAL/DÁTHEANGACH
A short observational film about what it is like being bilingual living in Belfast.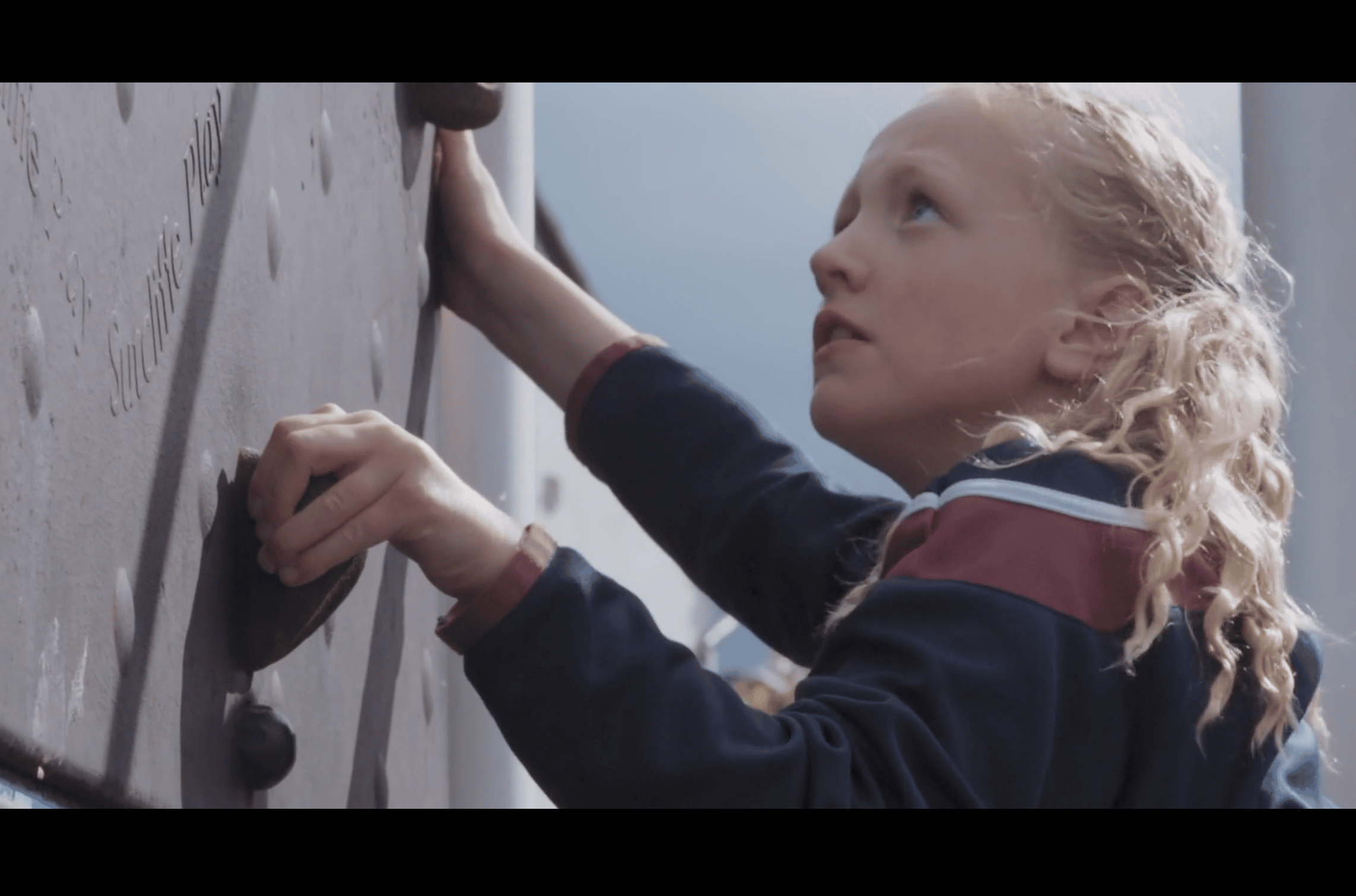 Frames Per Second – VFX Apprenticeship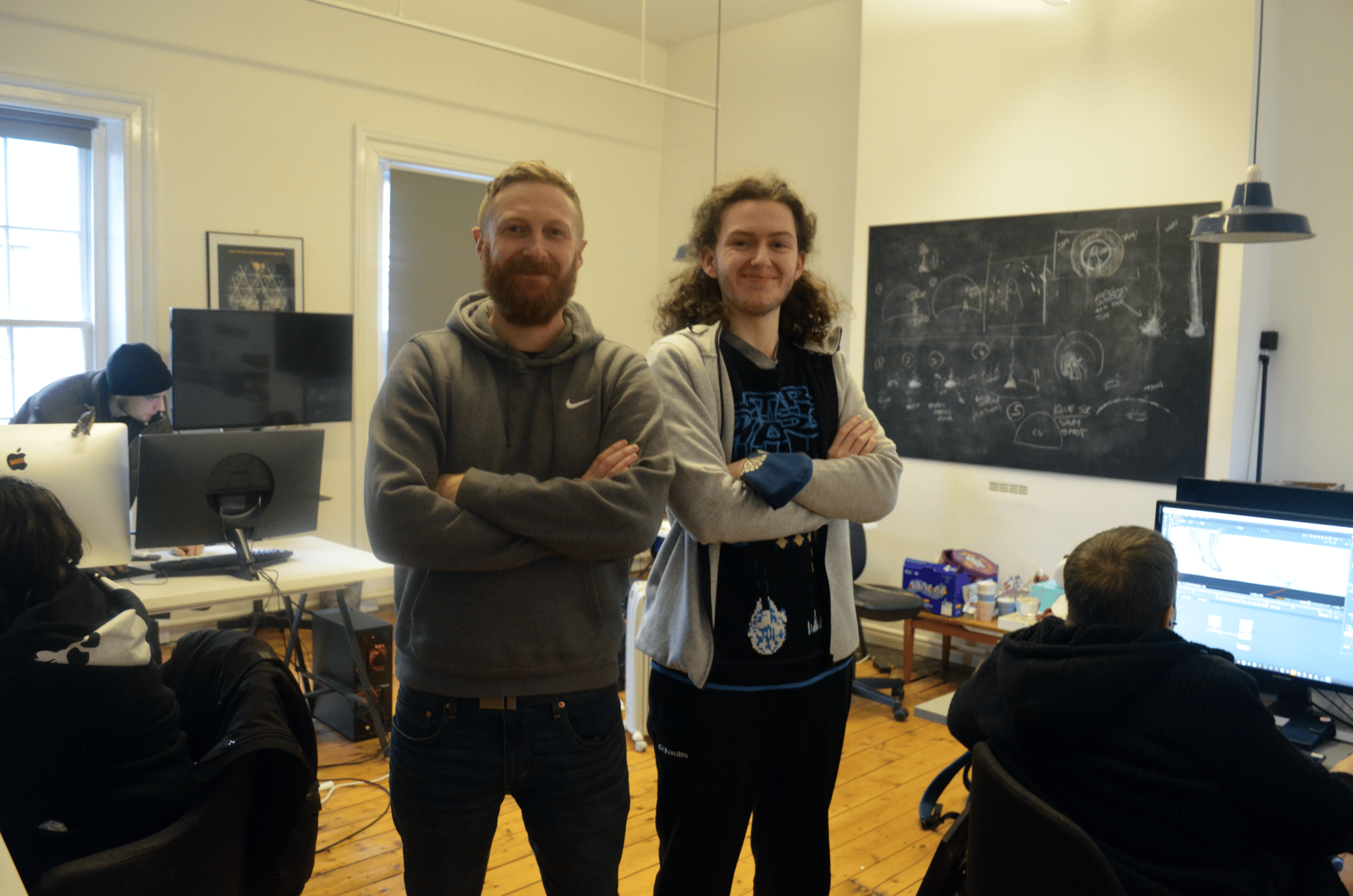 We recruited two young early school leavers (16/17) from areas of deprivation for a unique and exciting opportunity. They applied by making a short film about why they wanted to participate in the apprenticeship. They were trained over a period of six months, which started July 5th, for one day a week at leading visual effects and animation studio, Enter Yes™.
The two young people learned all aspects of film, Virtual Reality, Interactive Image and Animation. We supported both apprentices during this period by covering their costs paying (the National Living Wage) during their training. There was few hiccups along the way due to the pandemic which resulted in them working from home for a period of time. During the time they were being virtually shadowing and mentored by vfx staff runtil they got back in the studio.
One of the apprentices has decided to pursue a career in this area and has secured a place on the Creative Media Course in the Nerve Centre, Derry.
How might we get involved?
The Inclusion team will respond to enquiries, with information and where possible, follow-up meetings. It helps us to know what groups are interested and what type of people you are working with – we want to work with a diverse range of groups and we are particularly keen to work with groups who have not had access to digital film-making, creative writing or screenings, but who want to know more. We want to help overcome the barriers that make it difficult for people to participate and have a go.
Get in touch!
If you are a community in an area of disadvantage or social need and are interested in getting involved with our Outreach Programme please contact sara@belfastfilmfestival.org